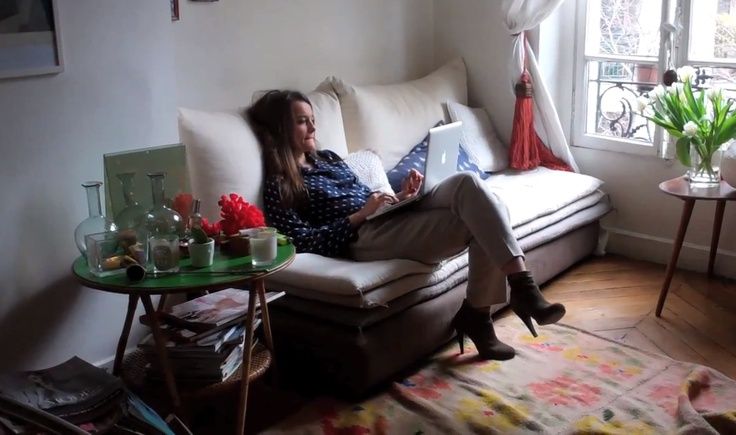 "I have to be alone very often. I'd be quite happy if I spent from Saturday night until Monday morning alone in my apartment. That's how I refuel." Audrey Hepburn.
This morning I dropped my boyfriend off at the train station, he is going on a short trip to San Francisco, and while part of me wishes I was going with him, I do love to be left by myself for a little while. I believe it's important to be happy in your own company.
Before I went home, I popped into my shop to see m
y sister, who sometimes works a day here and there for us. I always make sure I pay her a small visit, not because I don't have faith in her ability to run the shop, but because I know how nice it is to have someone pop by to say hello.
When I left, there was with a little spring in my step, because what lay ahead were a few days of solitude.
I got home, washed my face free of make up, and tied my hair back. I changed into my black cropped trousers, a black lightweight merino jumper, my Muji slippers (men's), and removed my watch. The sun has been shining all day, so I opened all the windows a crack to let the fresh autumn air in. I put some white washing on, hung another load to dry, cleared out our bathroom cupboard, and cleaned the sink. The living room was
tidy, so all I did was vacuum. Then I washed up our mugs from breakfast and cleared out the fridge. Maybe this sounds boring, but I enjoy these kinds of tasks on my days off - they really don't take long, and I always feel better when my surroundings are clean and tidy.
When the apartment was clear, it almost sparkled in the sunshine, and I sat down to write some blog posts. Yes, you heard me! In truth, I've been writing lots of posts over the last couple of weeks! I'm aiming to give the blog a little more structure, so that all the posts follow on from one another, and so that as readers, you feel that they are all connected. That's why I have several all lined up, waiting to be edited. I don't know if this makes sense, but I guess we'll see how it turns out! Either way, it feels good to be doing something here again.
I just had some lunch, leftover braised tofu from last night, and am sipping some tea, contemplating what to do with the rest of my time alone, between work. I would like to:
- Spend an evening watching all our old favourite movies with my sister.
- Read my pilots manual from back to front (I haven't been flying in a while, and I'm getting so impatient!)
- Cook excellent dinners and lunches to take in to work.
- Get lots of early nights (I love my sleep, and it's just got better now that it's cold enough to use the electric blanket.)
- Keep writing and editing blog posts.
In the mean time, I advise you all to spend an evening, a day, or like Audrey, from Saturday night to Monday morning, alone in your apartments, to refuel. I can feel it is already doing me the world of good.